Competitions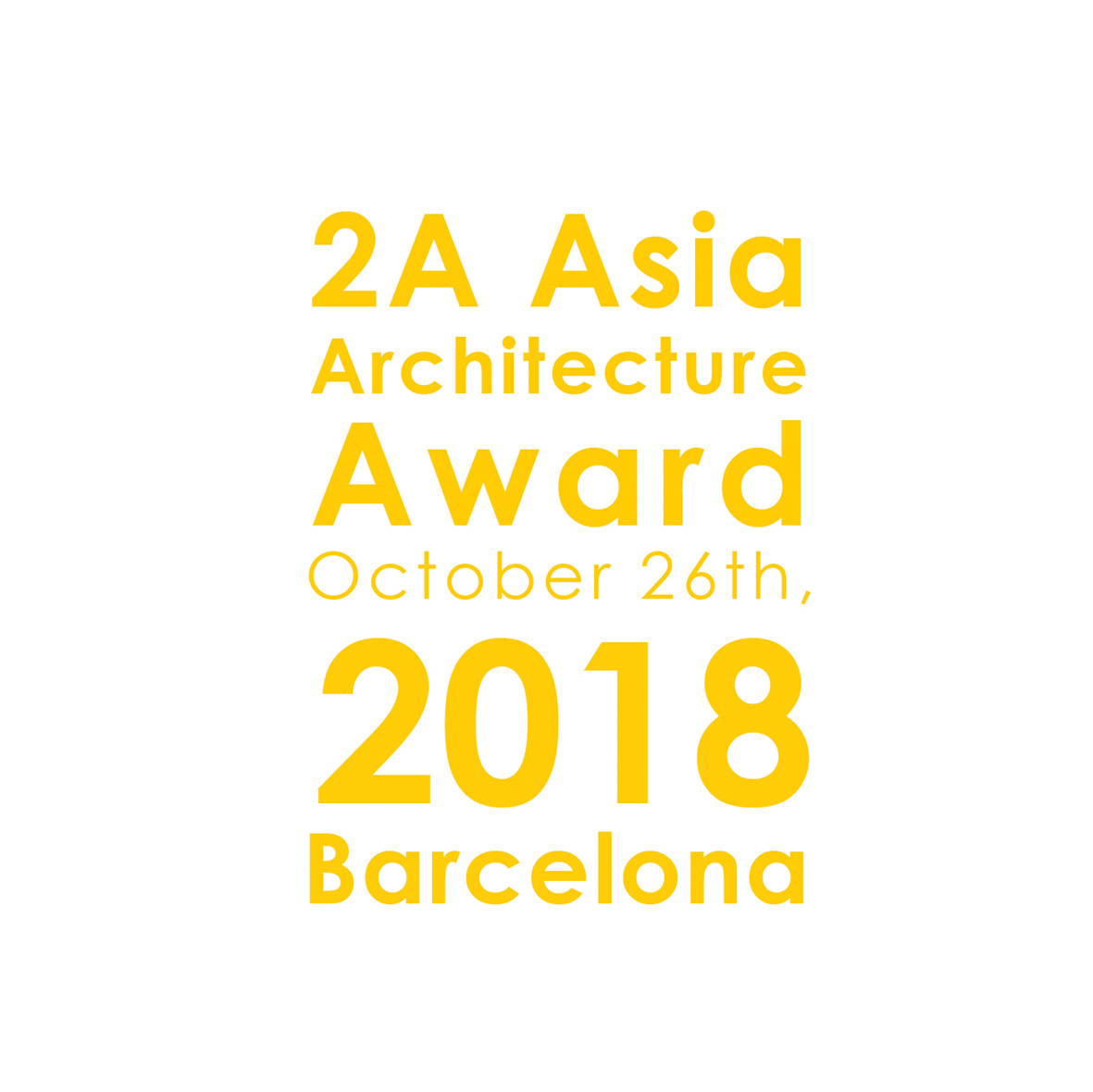 4th cycle | 2A Asia Architecture Award
Innovative Contextual Architecture
2A Magazine is proud to announce the release of posters and submission calendar of the fourth 2A Asia Architecture Award. This Award, with the theme " Innovative Contextual Design", is aimed to recognize and praise an individual's or group's substantial contribution to today's architecture. This gathering is a manifestation of the diversity of cultures, identities, themes, ideas and experiences in architecture. It also is a great platform to share, explore and discuss the theory and practice of architecture in a professional environment.
Academic Partner of 2A Asia Architecture Award and The Award Venue 2018:

This year the main academic partner of 2A Asia Architecture Award is Institute for Advanced Architecture of Catalonia (IAAC). Accordingly, the award ceremony and other events related to the organization of this architecture competition will take place in Barcelona, Spain.
Jury Members:
The following is the list of the acknowledged and celebrated jury members of 2ACAA 2018:

Carme Pinós
Founder of Carme Pinós Studio
Member of the Architects Association of Catalonia
International Fellow of RIBA
Yoko Okuyama
Former Fellow of Kenzo Tange's Studio
Founder of Sohseisha Architecture and Design Firm
Renowned Painter
Abbas Gharib
Founder of Studio Gharib & Tenstar Community
Based in Verona, Italy
Willy Müller 
Co-Founder of IAAC
Founder of WMA, Willy Müller Architects.
Ali Basbous
Founder of BAD, Built by Associative Data. 
Barcelona.Beirut.Dublin
The 2A Asia Architecture Award Events:
-Jury Meeting
-The Award Ceremony
-The exhibition of the winner projects at the IAAC school of Architecture
-Architectural Presentations by the winners at the award ceremony
-The selection of the "Innovative Project of the Year by Public Vote"
-Interaction Forum: A series of speeches and Q&As by professional architects and architecture enthusiasts
2A Asia Architecture Award Calendar

-Submission:
Asia: The entry opens on June 1st, 2018 and closes on June 30th, 2018, 4:00 pm CET.
Europe: The entry opens on June 4th, 2018 and closes on July 3rd, 2018, 4:00 pm CET.
-First Judging Stage: Online Judgment to select candidate projects:
July 5th-12th, 2018
-Second Judging Stages: Jury Meeting and judgment of the printed panels at IAAC:  
July 25th, 2018  
-Award Ceremony:  
October 26th, 2018  
-Innovative Project of the Year by Public Vote/ Presentation of the candidate projects:
October 26th, 2018  
-Exhibition of The Candidate Projects:  
October 26th-28th, 2018
Design Criteria of The Award:

-Design Achievement including Concept, Strategy and Proceedings.
-Technical advancement includes engineering achievements (structural, mechanical, etc.) and innovative use of materials.
-Reflection of sense of place and of cultural identity and ecology; environmental sustainability (including ecological, and sociocultural sustainability)
-Social responsibility and community and urban connectivity.
-The effects of economical condition on the project.
-Transcendent Dimensions of Architecture

2A Magazine immensely appreciate your participation in this architecture award.
For more information please visit our website: www.2amagazine.com
چهارمین دوره جایزه معماری آسیایی 2A سال 2018  در تاریخ 26 اکتبر 2018 با برگزاری مراسم اعلام برندگان و کاندیدها (برگزیدگان) در مدرسه معماری IaaC در بارسلون برگزار می شود. موضوع امسال جایزه عبارت است از: Innovative Contextual Architecture
تاریخ ارسال پروژه به صورت online و از طریق وبسایت مجله (www.2amagazine.com) از یکم ماه June به مدت یک ماه است.
(از 11 خردادماه تا پایان وقت اداری شنبه 9 تیرماه)
داوری در دو مرحله online و حضوری انجام می گردد. پروژه های کاندید و برنده در هر دو جایزه معماری آسیا و اروپا در مراسم اهداء جوایز در روز 26 اکتبر در محل مدرسه IaaC معرفی خواهند شد و جوایز خود را دریافت می نمایند.
امسال علاوه بر برندگان جایزه معماری آسیا و اروپا، رتبه اول و دوم از کل پروژه های راه یافته به مرحله دوم (Candidates Projects) نیز توسط شرکت کنندگان و با آراء ایشان انتخاب می گردد و برندگان این بخش نیز در مراسم معرفی می شوند.  قابل ذکر است، نمایشگاه آثار راه یافتگان به مرحله دوم جایزه به مدت سه روز در مدرسه معماری IaaC برقرار خواهد بود. همچنین مراسم Interaction Forum نیز در صبح همان روز مراسم برگزار خواهد شد. برای اطلاعات بیشتر به وب سایت جایزه مراجعه فرمائید.
شرکت کنندگان ایرانی با ارائه نامه ای در خصوص شرکت در جایزه، امکان دریافت روادید کشور اسپانیا را جهت حضور در مراسم خواهند داشت. پشتیبانی جایزه معماری آسیا توسط دفتر مجله معماری و ساختمان در تهران خواهد بود.
{tab General Information}
{tab Description}
The
{tab Farsi}